Frictionless point of sale (POS) is key if your grocery store wants to attract and retain customers.
The last thing people want when checking out at a grocery store is long lines and further delays. When products won't scan on the first try or coupons and loyalty cards hold up the line, customers become dissatisfied.
Everyone involved in the checkout process wants it to be as smooth as possible. No matter if you're a customer wanting to get on your way, or you're a cashier willing to keep lanes moving and customers happy. That's why it's so important to select the best software and technology for a frictionless POS.
If you're using legacy POS systems and scanner scales that are slowing things down, it's time to consider an upgrade.
We highly recommend an investment in Zebra's MP7000 scanner scales and LOC POS software. They will help you speed up your checkouts and deliver more value to your customers and cashiers.
As a result, you can offer more effective customer service and build stronger relationships with customers. This can help you increase their satisfaction and result in a higher customer retention rate.
How Zebra's MP7000 Checkout Scanner Helps Attract and Retain Customers
1. Reduces Scanning Issues at the Checkout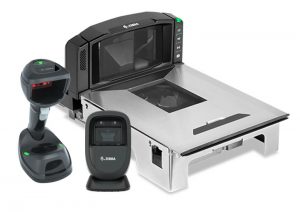 The MP7000's advanced scanning algorithms capture virtually every barcode instantly. Barcodes are captured right away with no hassles. It doesn't matter whether they're printed on a product or label or appear on an electronic screen such as a customer's mobile device.
We've seen the results first hand, and once try the MP7000, you'll immediately appreciate the difference. And so will your customers.
You don't have to perform hand gymnastics to line up a barcode properly anymore. The MP7000 scans barcodes almost as fast as the item moves into the scanning area, and from virtually any angle. It captures barcodes regardless of how good their quality is.
This difference alone can make a huge impact on customers and cashiers alike. It shortens checkout times and provides much-needed relief from the frustration of barcodes that won't scan.
A smoother checkout service satisfies customers can serve as a powerful marketing tool for your brand. It can contribute to attracting new customers and retaining existing ones, allowing your company to sell more.
2. Scan More than Just Grocery Items
Zebra's imaging solutions aren't just for grocery items either. You can use them to scan and capture checks, receipts, and even utility bills. This results in faster purchases. Your business can also extend scanning automation to offering more processes and services for your new and existing customers.
The MP7000 also has an optional customer-side scanner. It allows customers to scan their electronic and physical coupons as well as loyalty cards and impulse purchases while they're checking out. This way, cashiers don't have to scan these products which can slow them down.
3. The Lowest Power Consumption on the Market
Zebra's MP7000 also delivers a lot more than just scanning performance. It also offers the lowest power consumption in the grocery industry, consuming 60% less power than other competing devices.
4. Greater Durability and Faster Maintenance
It's also built with solid state technology that offers superior durability with no moving parts. This minimizes potential failure points and results in fewer repairs, far more uptime, and considerably lower total cost of ownership (TCO).
Its upper housing is designed with fewer parts and components as well. It can be removed without tools for much faster maintenance and repair time.
How to Improve Checkout Speed and Convenience with a Customizable POS 
LOC's solutions make it easy to set up the right process for goods and come with an intuitive and incredibly easy-to-use digital interface. It's great for customers, cashiers, store managers, and other staff.
It streamlines the scanning and checkout service by working seamlessly with Zebra's MP7000 scanner scale.
It quickly identifies products, matches them up with prices, quantities, weights, and other characteristics in your product database. Then, it adds them to your customers' orders.
It also simplifies payment with intuitive audio and visual cues as well as touch interactions. It also provides frictionless integration with payment acceptance hardware and related systems.
LOC also provides a number of other features to help you upgrade the overall customer experience as well as your store operations. These include:
Self-checkout and kiosk support
Online ordering support
Merchandising, loyalty, sales, and promotions
Inventory control
Centralized reporting and back office management
Analytics and mobile reporting
Cloud-based system management
Customization for specific store needs
Integrated i3DVR Surveillance
Attract and Retain Customers with DCR and Zebra
With LOC software and Zebra scanner scales, we've helped many independent grocers speed up and create frictionless checkouts. They are delighting their customers and keeping them coming back for more.
Additional technologies such as Zebra mobile computers for mobilized customer service help them deliver personalized shopping experiences. They also optimize curbside pickups and inventory management with LOC POS at their fingertips.
Are you looking for a simple and affordable way to improve your checkout speed and efficiency to gain more loyal customers? We highly recommend Zebra and LOC's grocery solutions.
Would you like to learn more about these new solutions and how to create the right checkout and POS strategy for your brand? Contact us now to start a conversation.
With nearly 60 years of experience in the grocery industry, we're focused on helping you stay ahead of industry trends. We do so by leveraging the latest grocery innovations to your benefit. And we'll be happy to go to work for your store and help the cause!