Convenience Store POS System Solutions
Streamline your C-store with effective POS and management software

Customized Convenience Store Solution for Your Business
We understand that operating a c-store is no easy task. That's why we offer solutions with your business's needs in mind.
Back Office Solutions
Gain access to all critical data about your business and performance indicators to help you make more informed decisions. 
Point of Sale System
Powerful, scalable, and easy-to-use hardware and software makes speed and efficiency easy.
Surveillance
Integrate our IP surveillance system with your c-store's POS system for text overlay and video transaction history.
Tank Monitoring
Know how much fuel you have with an easy and automatic way to stay informed about one of your biggest assets.
Pump Management
Complete fuel management including pump control, authorization, & tank monitoring
from any POS; full, self-service or a combination.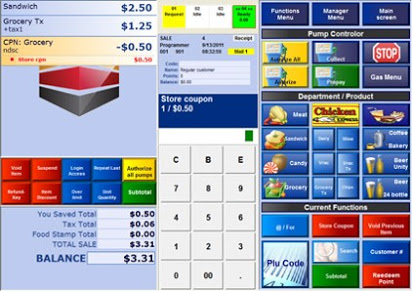 DCR POS SMS Convenience Store POS Solution
Convenient store pos system to make quick efficient sales maximize profits
Convenience stores are busy places and handle a wide variety of products to fit the needs of the busy consumer. That's why your point of sale (POS) solution needs to be equipped to handle your unique business.
At DCR POS, we offer the systems and solutions your c-store needs to develop a personalized solution for your industry. With our powerful and scalable solutions, your c-store or fueling station will reach new heights.
We're Better Together Equip Your POS System with the Right Hardware
Equip your POS system with the right hardware from Toshiba and software from Loc
Manage your convenience store with an all-in-one POS solution built to serve you. The comprehensive software from LOC and innovative hardware from Toshiba gives your business all the flexible features and benefits you need to succeed.
Some of the key benefits include:
POS, Backoffice and Pump Control
Centralized & remote reporting
Loyalty and Promotions in Store at PumpIntegrated Surveillance
Self-service kiosks and checkout options
Cloud-based System Management
C-Store Service and Support
Your Southeastern US Service Leaders
No matter what your c-store needs DCR POS is here to help. From installations, to service, support and anything in between we have your back 24/7, 365 days a year.
See what people are saying about DCR and LOC Software SMS…
LOC Store Management Suite (LOC SMS)
Features at a glance:
Return on Investment
LOC SMS starts paying for itself from the moment it is installed by eliminating manual errors and automating manual processes reducing the amount of time you spend back office. LOC SMS substantially affects your bottom line and enhances your quality of life.
Powerful Promotions Engine
The combination of LOC Software SMS POS, customer file, loyalty and coupon engines
provides retailers with the most complete, most adaptable, most sophisticated
promotions toolset in the industry, without exception.
Security
LOC SMS protects your investment by providing cashier monitoring, entry and exit journals, activity journals, the ability to set access levels based on user and easily integrates with our IP surveillance systems!
Reporting and Analytics
LOC Store Management Suite generates detailed reports on almost all aspects of your business allowing you to quickly and easily manage your performance.