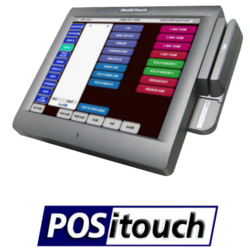 POSitouch restaurant POS system software, the hospitality industries leading point of sale application for table service, quick service, delivery and more.
Discover how POSitouch features like quick menu, server and cashier banking, automated menu changes for happy hour, inventory management, time and attendance and order routing, just to name a few, can help your restaurant become more profitable, efficient and productive. The application is used in thousands of operations across the country and can scale to meet your specific needs.
POSitouch's Windows based, open architecture software is amazingly easy to use, maintain and expand as your business grows.
br>
br>
br>
[jbox style="white"]
Return on Investment

POSitouch starts paying for itself the moment it is installed by eliminating manual errors and automating manual processes reducing the amount of time you spend back office.

Integrated credit card authorization

Eliminates the need for third party terminals and additional telephone lines.

Inventory management

Eliminates guesswork and replaces it with solid figures about product movement and cost.

Windows based, open architecture software

Provides an easy to use and maintain solution that can easily expand as you grow your business.

and much more
[/jbox]
br>
br>

Get a quote now!
[contact-form-7 id="6467″ title="Grocery Quote"]