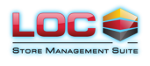 Many point of sale systems are capable of displaying advertising but none make it as easy to create and manage customized ads as LOC SMS software. Almost 66% of purchase decisions are made once a customer enters your store. Your point of sale customer display is a highly effective place to communicate your promotions.
LOC SMS makes it easy to design effective and strategic advertising slides without dealing with cumbersome ad building screens. Your time is valuable. LOC SMS software was designed with this in mind. Save time while creating customized, sleek and strategic advertising that can help increase your profit.
Contact us for more information on what LOC SMS can do for you and your business!