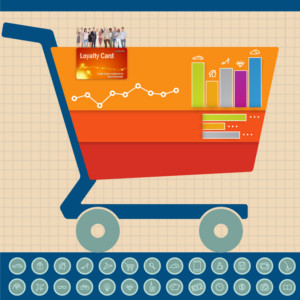 br>
As the market share among independent grocery stores becomes a more competitive endeavor, it only makes sense for independent grocers and retailers to offer customers and potential customers the same advantages they have come to expect from larger chains.
Chief among these competitive measures is the use of a loyalty program, which has become common practice in almost every retail space. From the mileage rewards of airlines to the discounts of a drug store, shoppers have come to expect some sort of discount program provided by their retailers. Most large supermarket chains will offer loyalty cards which provide discounts on select items, but the loyalty card is far more than a coupon your customer carries in his or her wallet. It is a marketing tool, as well as a discount card, and provides a reason for your potential customers to choose your business over another.
No matter the socio-economic status, consumers now expect to be rewarded for their shopping. Even in households registering incomes of over $150,000.00 per year, 72% of these families use some kind of loyalty card, and the vast majority of female shoppers in these upper-income households use loyalty and discount cards for their grocery shopping. For those below this income level, the use is even higher, with greater numbers generated by those programs which offer something free after a certain spending level.
The point is not to convince you, as a business owner, to give free items to all your customers, but to point out that loyalty programs are not a luxury for you as a business owner, but, rather, is now an expected facet of the shopping experience for the public. Unless your marketing is to specifically counter-advertise to these types of programs, you should be offering some sort of loyalty program for your customers.
Most programs will be composed of lower prices with the use of a card, and some will accrue points to offer an even greater reward for certain spending levels. Whichever you choose, you should be aware of the notion of consumer inertia. Essentially, consumer inertia refers to the notion that a costumer who frequents a store will continue to frequent that store until some force acts upon them to change their shopping behaviors. If one of your regular customers suddenly disappears, chances are some other program or price structure has lured them away. Conversely, advertising lower prices can draw customers from your competitors, and keeping them in your aisles can be aided with an effective loyalty program.
In addition to their use as a customer incentive, loyalty cards also allow you to market specific brands to a customer based on previous buying habits. The customer's prior purchases are stored in a database and related coupons may be presented at the time of check-out, or via email. Through this personalization, the customer will receive additional coupons or discounts for items they are likely to buy, or, perhaps, an item they have not previously considered but is appropriate to previously-established shopping behaviors.
Lastly, the application used to obtain a loyalty card for your store will provide you with a database of email addresses that you may use to announce sales or store events, enabling you to effectively increase sales from particular customer groups or to encourage specific buying behaviors. For example, you may include an email blast to your customer base around Thanksgiving to encourage sales from your bakery to augment their expected holiday shopping. Regardless of how you choose to use the information, having access to your customers' email is essential in a market crowded with marketing opportunities from your competitors.
In short, loyalty programs for the independent retailer are no longer luxuries to be explored when the time allows. It is an essential part of most shoppers' experiences and an expected part of retail behaviors. To ignore the loyalty programs available to you is to ignore your valuable customers' expectations and a valuable resource for future marketing endeavors.