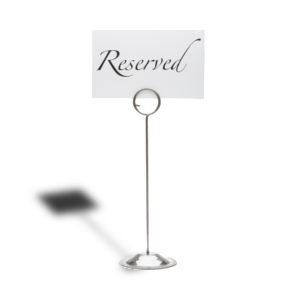 With the integration of a POS system in your restaurant successfully accomplished, you'll probably find yourself wondering how to further automate your processes into the system.
Automation, at its best, gives you with the ability to provide ease-of-use for not only you, but your customers, as well. Many restaurants have traditionally used pen-and-paper to record reservations, but some new tools available make this process not only easier for your customers and your staff, but allow you to construct a database of users that give you a number of marketing opportunities.

While there are several web-based applications that allow for internet-based reservations, we'll be focusing on the one that integrates most completely with our standard POS example – POSitouch. The available reservation module, called POSereserve , has two points of interface – one for the customer and one for you, the business owner. The POSereserve software provides a button, or widget, that can be placed on your restaurant's website and/or Facebook page. This widget allows a one-click entry into the POSereserve module, allowing the customer to enter the relevant data for their reservation. Among the information captured is the user's email address, which will play later into building your customer database. Once this widget is clicked, the customer then enters the number in party for their reservation, as well as a time and date. Rules may be applied to this module to exclude reservations at certain times, and also allows for you to determine a cap on reservations so that your wait list never exceeds the number of seats in your restaurant. Once this is done, the customer can request a text or email to be sent confirming this reservation. Also, the customer may share their reservation on Facebook, effectively advertising your business for you through the natural use of Facebook utilities.
For the restaurateur, the POSereserve module provides an at-a-glance look at reservations for any given date. You'll be able to see the names, number in party and time reserved, just as the customer entered it. Further, you'll be able to see special requests made through the widget. More importantly, you'll see all this information in relation to the layout of restaurant as defined by you. Using the interface, you may assign the reservation to specific tables, and even specific servers. This interface is available to any computer or terminal with web access, allowing your host staff to assign tables from their place at the restaurant lobby or check-in area.
So, all that sounds pretty easy and helpful, but the real benefit comes in the marketing opportunity that this affords. Since you are capturing the email address of the customer, you can collect this information to market directly to returning customers. Since there are also options for the end user to enter their birthday, you can tailor your marketing to specific events, like holidays or the customer's birthday, inviting them to share their special events at your restaurant. Using this tool, you'll be able to narrow your marketing further to address the likes of specific customers, appealing to them based on their previous dining habits.
Not all reservation software uses the same feature sets, so be sure to contact your POS dealer for questions regarding the specific offerings for your system. With the powerful tools at your fingertips, you'll be able to create a far easier reservation process for your customers and staff, while also compiling a list of your patrons that enable you to more accurately identify marketing opportunities. Using the tools inherent in Facebook, you're allowing patrons to tell all their friends where they'll be for their special occasion. You've enabled your customers to do your advertising for you!