No one likes waiting in long lines, whether it's to get on a ride at an amusement park or for an everyday necessity such as buying groceries.
And when it's time to check out in a grocery store, the last thing anyone wants is further delays because items won't scan on the first try or coupons, and loyalty cards are holding up the process.
Whether you're the customer who just wants to get in, get out, and get on your way, or you're a cashier who wants to keep lanes moving and keep customers happy, everyone involved wants checkouts to be as smooth as possible. That's why it's so important to create a frictionless point of sale with the right software and technology.
If you're using legacy point-of-sale systems and scanner scales that are slowing things down, then it's time to consider an upgrade. If you need a point-of-sale solution and scanning technologies that will help you speed up your checkouts and make them as efficient as possible for your customers and cashiers, we highly recommend an investment in Zebra's MP7000 scanner scales and LOC point of sale software.
How Zebra's MP7000 Checkout Scanner Helps Create a Frictionless Point of Sale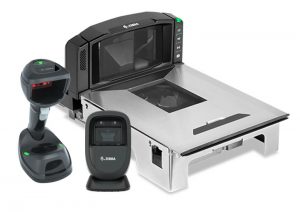 Innovations in checkout scanning technology are finally putting an end to the problem of barcodes that won't scan on the first try. Our technology partners at Zebra have been leading the way with their MP7000 grocery scanner scale, which has introduced advanced multi-plane 1D/2D bioptic imaging that finally delivers true "swipe-and-go" scanning performance.
The MP7000's advanced scanning algorithms capture virtually every barcode instantly. Barcodes for products, coupons, and loyalty cards are captured right away with no hassles, whether they're printed on a product or label or they appear on an electronic screen such as a customer's mobile device.
We've seen the results first hand, and once you've tried the MP7000, you immediately appreciate the difference. You don't have to perform hand gymnastics to line up a barcode properly anymore. The MP7000 scans barcodes almost as fast as the item moves into the scanning area, and from virtually any angle.
This difference alone can make a huge impact on customers and cashiers alike, as it shortens checkout times and provides much-needed relief from the frustration of barcodes that won't scan.
Zebra's imaging technology isn't just for grocery items either. You can scan and capture checks, receipts, loyalty cards, and even utility bills. This allows purchases to be processed faster and your store to extend scanning automation to more processes and more services for your customers.
With the MP7000, there's also an optional customer-side scanner that allows customers to scan their electronic and physical coupons as well as loyalty cards and impulse purchases while they're checking out. This way, cashiers don't have to scan these items and aren't slowed down.
Zebra's MP7000 also delivers a lot more than just scanning performance. It also offers the lowest power consumption in the grocery industry, consuming 60% less power than other competing devices.
It's also built with solid state technology that provides superior durability with no moving parts. This minimizes potential failure points and results in fewer repairs, far more uptime, and much lower total cost of ownership (TCO).
Its upper housing is designed with fewer components and parts as well. It can be removed without tools for much faster maintenance and repair time.
How to Improve Checkout Speed and Convenience with a Customizable POS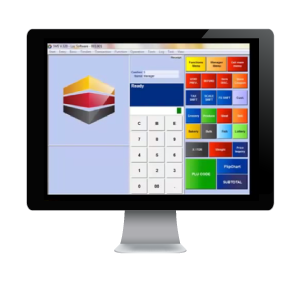 A good strategy for faster and more convenient checkouts isn't limited to scales and scanners. It's also about having the right point of sale system in place to integrate with your in-aisle checkout hardware and self-checkout kiosks to make sure the scanning, item identification, and payment processes are as quick and smooth as possible.
This is one of the key reasons why we recommend LOC Point-of-Sale software the LOC Store Management Suite. LOC's solutions make it easy to set up your store items with the right prices and provide an intuitive and incredibly easy-to-use digital interface that's great for customers, cashiers, store managers, and other staff.
It streamlines the scanning and checkout process by working seamlessly with Zebra's MP7000 scanner scale to quickly identify items, match them up with prices, quantities, weights and other characteristics in your product database, and add them to your customer's order. It also simplifies the payment process with intuitive audio and visual cues as well as touch interactions, and it provides frictionless integration with payment acceptance hardware and related systems.
LOC also provides a number of other features to help you upgrade the overall shopper experience as well as your store operations. These include:
Self-checkout and kiosk support

Online ordering support

Merchandising, loyalty and promotions

Inventory control

Centralized reporting and back office management

Analytics and mobile reporting

Cloud-based system management

Customization for specific store needs

Integrated i3DVR Surveillance
With LOC software and Zebra scanner scales, we've helped many independent grocers speed up and create frictionless checkouts that are delighting their customers and keeping them coming back for more. And with additional technologies such as Zebra mobile computers for mobilized customer service, we're also helping them deliver personalized shopping experiences, optimize curbside pickups, and inventory management with LOC point of sale at their fingertips.
If you're looking for a simple and affordable way to improve your checkout speed and efficiency, we highly recommend Zebra and LOC's grocery solutions. And if you're like to learn more about these solutions and how to plot the right checkout and point-of-sale strategy for your store, contact us now to start a conversation.
With nearly 60 years of experience in the grocery industry, we're focused on helping you stay ahead of technology trends and leverage the latest grocery innovations to your benefit. And we'll be happy to go to work for your store and help the cause!